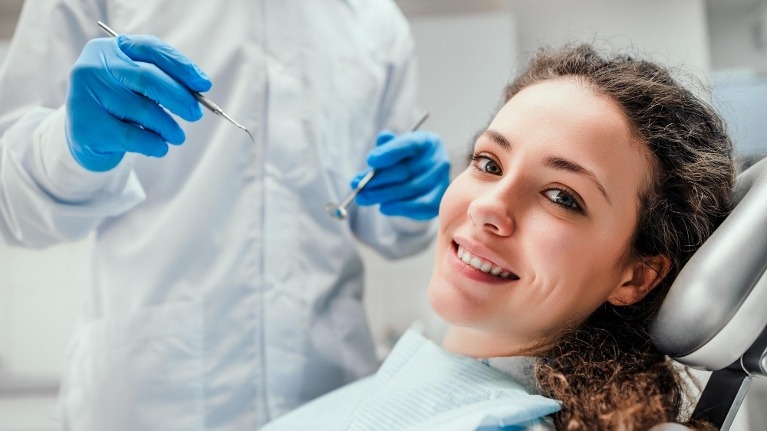 What is CEREC? One-Day Dental Crowns in Charleston
When you or a family member in the Low Country break a tooth or need a large filling, it will likely need a crown placed for additional strength and protection. Very recently, having a crown placed meant multiple visits to the dentist, with a considerable amount of time and inconvenience between the beginning and the end of the process. 
James Island Dental Associates is pleased to offer the latest advanced technology for designing, creating and placing crowns that allows us to better respect your time and treat you with excellence and comfort. CEREC (Chairside Economical Restoration of Esthetic Ceramics) technology allows our dentists to provide you with one-day dental crowns in Charleston. 
Get to Know CEREC
CEREC is a revolutionary system of computer-aided design and manufacturing that allows numerous dental appliances to be created right in the dental office. This includes crowns, dental implants, inlays, onlays, veneers, and other orthodontic appliances. With CEREC technology, we offer our patients quality dental crowns in a single dental appointment. 
Traditional crowns are made from metal, porcelain, porcelain fused to metal, ceramic, and resin. After the dentist creates a mold, usually by having you bite down on a messy mass of dental putty, this mold is sent to an off-site lab for creation. Then you are required to have a temporary crown to be placed to protect your tooth. These often fit poorly and come loose, making for a troublesome experience. 
Then, at a later time, when your crown is made and returned to the dental office, you must set another appointment to return and have it placed. After removing your temporary crown, the dentist usually must perform some fitting modifications so the new crown fits comfortably over your tooth. 
CEREC crowns are made from highly durable ceramic material, right in our office at James Island Dental Associates. CEREC technology allows us to create durable, comfortable and affordable same-day dental crowns in Charleston for our patients.  
Advantages of CEREC Crowns 
The major advantage of CEREC dental crowns in Charleston is convenience. Instead of spending multiple days at the dental office, disrupting your schedule, crowns with CEREC can be completed in just a few hours on the same day. This saves you time and money, without multiple visits and co-pays. 
Patients with texture issues or a strong gag reflex love CEREC crowns because there are no messy dental impressions for obtaining a mold. Our dentists use digital scans to create a 3D model of your tooth, resulting in a cleaner, more accurate impression from which to create your crown. 
Another advantage of CEREC crowns is their durability. Although they are created rather quickly right in our office, the modern ceramic material is extremely strong — every bit as strong as traditional crowns made from metal or porcelain. Plus, they look so natural that most people cannot tell a CEREC crown from a natural tooth. 
One-Day Dental Crowns in Charleston 
In our 33+ years of offering complete and comprehensive dental care to families in Charleston, James Island, and surrounding communities, we have pledged to provide quality, fast and convenient dental services. 
CEREC computer-aided design and manufacturing technology allows our dentists and technicians to create and place precise-fitting, natural-looking restorations that make patients smile in an easy and comfortable process. With a crown that so closely resembles your own natural teeth, including shape and color, you'll be pleased to smile and laugh with pride. 
CEREC is yet another advanced technology that equips our dentists to serve you with quality, comfort and convenience. Schedule an appointment online using our Patient Portal, call us at (843) 762-1234 or complete the form on our contact page. Our dentists and skilled team are happy to answer your questions about CEREC one-day dental crowns or other dental services we provide. 
Share Our Story, Choose Your Platform!