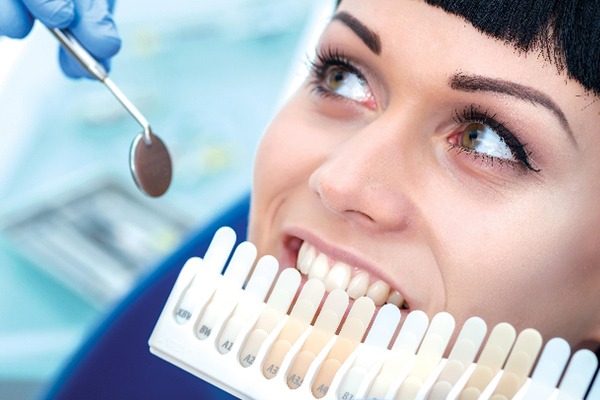 Cosmetic Dentist In Charleston
Could your smile use a makeover? The skilled and talented dentists at James Island Dental Associates offer several custom options for dental makeovers in Charleston and Johns Island, SC. If you have dingy, damaged, crooked, or missing teeth, our Cosmetic Dentists can work with you to determine the best treatments to restore your smile. 
What is Cosmetic Dentistry?
Cosmetic dentistry refers to dental procedures that aim to improve the appearance of your teeth, gums, and overall smile. The goal is to enhance the aesthetic appeal of your teeth and create a more confident, attractive smile. Cosmetic dentistry can also address certain functional issues that affect your oral health, such as misaligned teeth or a misshapen bite. It is a popular and effective way to improve your dental health and self-esteem.
What Can a Cosmetic Dentist Do for Me? 
The highly trained cosmetic dentists at our clinics in Charleston and Johns Island offer several options that can be combined to make over your smile. Every patient has different needs, so various combinations of treatments are possible. Teeth can be repaired, straightened, whitened, or even replaced to create the perfect smile. Here are some of the cosmetic options offered at James Island Dental Associates and Johns Island Dental Associates. 
Light Orthodontic Work 
Many teens and adults don't require extensive orthodontics to improve their smile. In fact, the only real problem may be with the front-facing visible teeth on the upper and lower arch. This light orthodontic work is faster and cheaper than traditional braces. The SureSmile system uses clear aligners that only straighten the front teeth. There are no metal brackets, no wires to break, and no painful adjustments. Simply swap out the aligners every few weeks for a new set until your front teeth are straight and beautiful. 
Restorative Dentistry 
Teeth can become damaged, decayed, or worn over time and need repairs. Sometimes repairs are not enough and they must be replaced to restore your smile and chewing function. Our cosmetic dentists are highly skilled in tooth restorations with dental crowns that look and feel natural. We can also replace one or more teeth with bridges, dentures, and custom dental implants. 
Teeth Whitening 
Stained or discolored teeth can be improved by teeth whitening. Disposable at home treatments using Opalescence products have proven to be very effective in about 20 mins per use.  We have different options we can use and your dentist will discuss them with you and recommend the best option. Our dentists know how to use these professional-grade whitening agents properly and safely to give you a radiant smile. 
Is It Time for a Cosmetic Dental Makeover? 
Every smile makeover is customized to the patient's unique and specific needs. James Island Dental Associates also offers numerous other services to get your teeth and gums ready for cosmetic dentistry treatments, like LANAP, gum and bone grafting, 3D imaging, root canals, and more. We also have sedation dentistry options to help you remain comfortable throughout your treatments. 
Call or book online today in Charleston or Johns Island for the best cosmetic dentistry makeover options in the LowCountry! 
Share Our Story, Choose Your Platform!