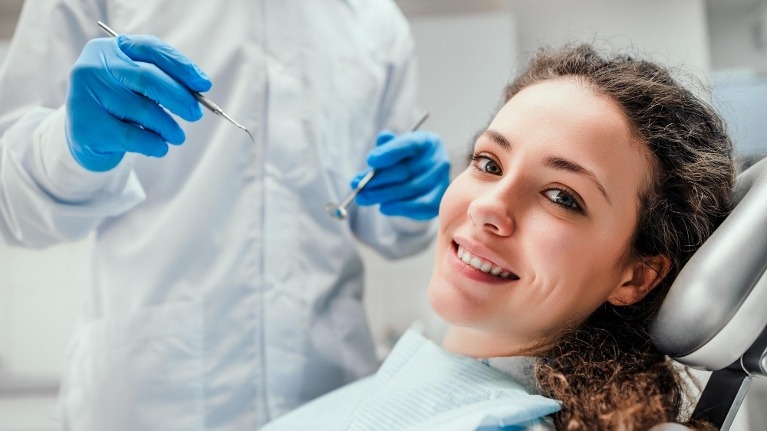 A GUIDE TO THE DIFFERENT TYPES OF COSMETIC DENTAL PROCEDURES
A Guide to the Different Types of Cosmetic Dental Procedures
Cosmetic dentistry can help your smile in more ways than one. Learn more about the different types of cosmetic dental procedures with this guide.
In a study of cosmetic dentists in the US, the Levin Group found that more than 15% of cosmetic dentists have seen a 39.8% increase in business. Unsurprisingly, these dentists expect to see that percentage continue to grow. 
Perhaps more surprisingly, it's primarily adults over the age of 30 seeking out cosmetic dental procedures. The same study found that 38% of cosmetic dental patients are between 30 and 40 years. Close behind are baby boomers, at 32% of the cosmetic dental patient population.
If you're interested in having cosmetic work done on your smile, you aren't alone. Yet with the more recent rise in popularity of these procedures, you may not understand what you're in for. That's why we created this guide to the 7 most popular types of cosmetic dentistry.
Ready to find out if a crown, veneer, or bonding procedure will improve the look of your discolored or damaged problem teeth? Then check out this guide to discover the procedure that will help you smile again!
Why Cosmetic Dentistry?
When you think cosmetic dentistry, do you imagine vanity or superficiality? Then you may prefer to call cosmetic procedures by their other name: preventative dental procedures. Because preventative dental procedures do just that– they prevent you from having future issues with your teeth.
With frequent trips to your cosmetic dentist, you can protect your teeth from damage as you age. You'll save countless dollars by fixing issues with damaged teeth now. Plus, you'll get the benefit of improved dental health. 
Another reason so many people get cosmetic procedures done is to improve their confidence and the appearance of their smile. Your smile is the first thing people see when they meet you. So, put your best foot forward with a cosmetic dental procedure.
7 Cosmetic Dental Procedures for Adults
Cosmetic dentistry is all about giving you a straighter, whiter, and brighter smile. Sound good? Then check out this list of the 7 most common cosmetic dental procedures to figure out which one is right for you!
1. Whitening
Have discolored or stained teeth? Then you could benefit from a cosmetic teeth whitening procedure. Also known as teeth bleaching, this procedure isn't for everyone, especially those with damaged teeth. 
While you can whiten your teeth with at-home kits, your local cosmetic dentist can do professional teeth whitening much faster and with way better results. 
2. Veneers
If you have discolored teeth, whitening isn't the only way to brighten up your smile. Veneers are thin shell-like covering made of porcelain or another material. These coverings are made to fit over your problem tooth before the dentist cements them to the enamel. 
Veneers are also used to cover crooked or chipped teeth. Some dentists will even use veneers to conceal unsightly gaps between teeth. 
3. Implants
For aging adults who have missing teeth or for those who lost teeth in an injury, implants are the best option to replace them. Cosmetic dental implants are made of metal, usually, titanium, which is used to anchor the implant to the root of the missing tooth. These are used to anchor:
Getting an implant is a surgical procedure, but considering that dentists perform 500,000 implants per year, you do not need to worry. Your cosmetic dentist will place the metal implant into the jawbone. 
4. Crowns
Want an alternative to veneers? Look no further than cosmetic dental crowns, which are yet another solution to the problem of cracked, chipped, stained, decayed, or poorly shaped teeth. Crowns are also known as caps because they fit over your pre-existing teeth. 
Unlike veneers, crowns are more commonly made of acrylic. These super-hard caps withstand even the strongest pressure for a comfortable bite and natural feel.
5. Shaping
When your teeth are too long or big, it can make you feel self-conscious about your smile. That's why cosmetic shaping is such a popular procedure today. Shaping, or enamel shaping, removes some of the enamel of your problem teeth. 
While this procedure might sound scary, it's 100% pain-free! The best part? You'll see results from one session of cosmetic shaping almost immediately.
6. Bonding
Yet another option for people with stained, chipped, or decaying teeth, bonding is the least invasive of all. That's because, after filing down the front of your tooth, this procedure adheres tooth-colored resin to the front of the problematic tooth or teeth. 
Since shaping can only reduce the size of a tooth, bonding is the procedure you'd want to increase the size of your teeth. For example, if you have a tooth that's smaller or shorter than the rest, you can have bonding done to straighten up your smile. 
One other thing: because the resin is extremely tough and bonded directly to your teeth, this is often one of the most durable types of cosmetic procedures. The only downside to this is that the resin isn't as stain-proof as porcelain veneers or acrylic crowns. 
7. Orthodontics
Think orthodontics are just for kids? Think again because orthodontic procedures for adults have increased in frequency by 40% since 1989. Considering that teeth-straightening devices are cheaper than ever, that's no wonder. 
So, if you have buck teeth, crooked teeth, or unsightly gaps, don't ignore orthodontics. Consult your cosmetic dentist to see if braces or another orthodontic product is right for you!
Cosmetic Dentists in Charleston, South Carolina
Are you looking for a cosmetic dentist in Charleston who can perform one of these dental procedures for you? Search no further than James Island Dental Associates. Schedule an appointment with us today and let us give you the confidence to smile again!
Share Our Story, Choose Your Platform!